Magical Kenya hosts the ATA 30th Jubilee International Congress, Nairobi, May, 2005. Africa Travel Association's Prestige Magazine to publish a "GRAND TOUR "OF KENYA" edition for the Jubilee Congress, with long-term worldwide distribution as a follow-up!
Kenya turns on the magic ...
by Jerry W. Bird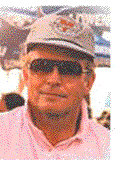 Minutes after our Kenya Airways jet touched down at Nairobi International Airport, following a cross-continent flight from Cameroon - - we were Amboseli bound. Spectacular sights on the route south included a panoramic 'passing parade,' with a backdrop of grassy fields and rolling hills dotted with lily white blossoms as far as the eye could see. In the foreground, every few miles were Maasai herdsmen. Solitary or in pairs, from nine year olds to great grandfathers, they were guarding their mixed herds of cattle, sheep and goats. Even clusters of wildlife joined the herd as we drew nearer to the park gates. One of the most enduring, endearing and colorfully garbed of African tribes, the Maasai culture has endured since earliest times. Directly south of Naibori in the shadow of snowcapped Mount Kilimanjaro, Amboseli National Park was first on our list of Kenya's must-see attractions.
The most compelling reason is its large concentrations and wide variety of wildlife. Little time was wasted in getting us out 'on Safari, " as no sooner than we checked in at the Amboseli Serena Safari Lodge, like Dr. Doolittle, we were off to see the animals. The first Safari stop was at a nearby Maasai village, where we met and mingled with the chief and villagers; visiting their lodges, watching a fire-making demonstration, capturing some unique photos and bargaining for a seemingly endless selection of craft items. We ventured inside one of the dwellings, made entirely of indigenous materials, including dried elephant dung. This mixture keeps the homes cool in summer and protected from rain and biting winds in winter, as it has for generations. (see blowup map)
On Safari: At one point during our evening game drive from Serena's Amboseli Lodge, I was struck by the fact that you could look in every direction - 360 degrees -- and see some form of wildlife. A family of elephants on the horizon at 12 o'clock -- several frisky giraffes to the right - a herd of buffalo grazing on our left - and other grassland creatures bringing up the rear. George, our driver ,stopped for fifteen minutes as we watched two large Crested Cranes in attack mode. One was hopping about, spreading his wings and huching his back defiantly as he approached a cobra, which lay by the side of the road totally unperturbed by all the cavorting and saber rattling.
To the reader: Further sections of our Kenya tour are currently in the final stage of editing and will be online shortly. The following are excerpts from our notes, whereas the final version will be in the same day by day sequence as our tour.
Lake Nakuru - Birds and Buffalo: Approaching Lake Nakuru from the National Park gates, I had little idea of the unforgettable sight awaiting us. Some call it the "World's Greatest Bird Spectacle," and I can agree, having never experienced such a large concentration of pink flamingos on one body of water. Since the Lake Nakuru Lodge, our destination for the day, was on the opposite shore, we circled the lake and our driver soon discovered a relatively dry area where we could motor along the shore. We were soon positioned in the midst of a sizeable flock -- an ideal photo op. Like a typical beachcomber, I spotted a sun-bleached buffalo skull lying in the sand, and by the time our photo session began, one very large buffalo presented himself directly in front of the camera lens. In the background, like a chorus line from the Follies, dozens of white pelicans took center stage and began their parade for the camera's waiting eye. (see Birds of Kenya)
On the Road Again: Early in life, being a Boy Scout brought about my proudest moments, and each proficiency badge I earned was cherished like a purple heart. So heading north that afternoon from Nairobi, as we passed Nyeri, we learned that this beautiful agricultural area was the final resting place of Lord Baden-Powell, who founded the Scout movement .Knowing this fact brought a flood of gratitude for the great man and his legacy. We need heroes and he is one of mine. Our next trip's agenda will include a visit Baden-Powell's grave site, gardens and Paxtu cottage, which now houses a museum in his honor.
Visiting Nairobi's tudor style Norfolk Hotel is like taking a journey into colonial history - one that spans over 10 decades. Stopping for a pre-arranged luncheon at this elegant hotel, we were greeted like royalty and seated at a pleasant, gardenside table next to the main dining room. Among the many offerings on the noon buffet menu, was a highly polished silver steamer, brimful with king-size prawns. Only on rare occasions do I take the time to photograph a meal in progress, but this was for the record. Another feast was presented on the dining room walls, where a gallery of black and white photographs portrayed life in Kenya from the 1800s through to the 1950s. We could have stayed the entire day gazing at these unique images and vow to return often.

For our associate editor Muguette Goufrani, this trip was a special occasion, as two decades had passed since she last toured Kenya. Her roots in Africa go back to Casablanca, Morocco and since graduation from college in France , her travel industry career has taken many paths, inside Africa and beyond. Fortunately, it eventually led to North America and a position with this magazine and our Africa Travel Association's Canada Chapter. Her forte is research, and the ability to write original stories in French, laced with personal anecdotes that give it flavor and spice. The above photo was taken in Kenya while she was on vacation from her job with Air Afrique in Abidjan. Like the rest of us in ATA, she is very high on Magical Kenya as a destination.
---
Amboseli lies immediately North West of Mt. Kilimanjaro, on the border with Tanzania. Amboseli was established as a reserve in 1968 and gazetted as a National Park in 1974. The Park covers 392 km2, and forms part of the much larger 3,000 Km2 Amboseli ecosystem. Large concentrations of wildlife occur here in the dry season, making Amboseli a popular tourist destination. It is surrounded by 6 communally owned group ranches. The National Park embodies 5 main wildlife habitats (open plains, acacia woodland, rocky thorn bush country, swamps and marshland) and covers part of a pleistocene lake basin, now dry. Within this basin is a temporary lake, Lake Amboseli, that floods during years of heavy rainfall. Amboseli is famous

The Lodge: In harmony with nature, the Amboseli Serena Safari Lodge, being located in the center of Maasai territory, reflect the tribe's colourful culture in its architecture and interior design. (more to come)

The Crested Crane of Africa resembles a peacock and flies in wedge shaped formation during migration. Its animated courtship dance involves bowing and hopping about noisily while circling its partner. The cranes we saw at Amboseli performed a similar version to scare off, or at least impress the cobra.