Animated sequence below depicts past IIPT event sites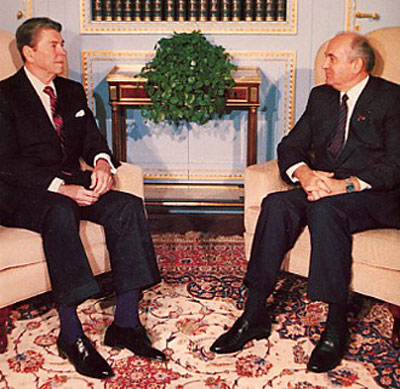 SECOND GLOBAL SUMMIT ON PEACE THROUGH TOURISM TO BE IN SPIRIT OF HISTORIC 1985 REAGAN-GOBACHEV GENEVA SUMMIT. Held in early February, 2003 with great success.
Karen B. Hoffman report to come,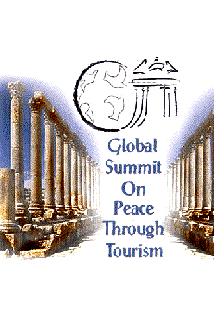 "We have worked with IIPT founder Louis D'Amore during the formative years since he launched this exciting program in Vancouver, BC Canada, our home city. That's just one reason why we are so proud to support the Geneva Summit, which has such great historical significance."
Jerry W. Bird, Editor

Jordan's Queen Rania was the Royal Patron
The Second Global Summit will take place in the same Geneva International Conference Center (CICG) which served as the venue for the 1986 Geneva Summit. The historic meeting of President Reagan and Secretary Gobachev was a watershed event signaling the end of the Cold War. Their joint statement following the Summit read in part, "There should be a greater understanding among our peoples and to this end we will encourage greater travel." A few days prior to meeting with Secretary Gorbachev, President Reagan delivered what has since been called his "People to People" Speech:
"Imagine how much good we could accomplish, how the cause of peace could be served, if more individuals and families from our respective countries could come to know each other in a personal way. "I feel the time is ripe for us to take bold new steps to open the way for our peoples to participate in an unprecedented way in the building of peace "We could look to increase scholarship programs, improve language studies, conduct courses in history, culture and other subjects, develop new sister cities, establish libraries and cultural centers, and yes, increase athletic competition. If we must compete, let it be on the playing fields and not the battlefields. Such exchanges can build in our societies thousands of coalitions for cooperation and peace."
The post 9-11 world is ready for another watershed event that will mark the beginning of dialogue - where there is violence; respect and tolerance - where there is hatred and suspicion; hope - where there is despair; competitive sport - in place of combat; sustainable development - in place of destruction; and a beginning celebration of our cultural diversity and the wonders of all God's creation.
There is no industry that is better placed to initiate such a watershed event than the travel and tourism industry. There is no better place to make it happen than Geneva, a city where people of all races, creeds and color live in harmony; a city which is home to some 200 international organizations - all potential partners in "Building a Culture of Peace." There is no better time than in this second and third year of a new Century and Millennium - and UN Decade of Peace and Non-Violence for the Children of the World. It is with such a spirit that the Second Global Summit on Peace through Tourism is being convened.
GLOBAL PARTNERS
GLOBAL ALLIANCE OF TRAVEL AND TOURISM ORGANIZATIONS (GATTO)
Adventure Travel Society
Airline Ambassadors International

Africa Travel Association
Ambassadors for Children
Archaeological Institute of America and Archaeology Magazine
Asian Association of Convention & Visitor Bureaus
Caribbean Tourism Organization
Connected International Meeting Professionals Associations
Educational Travel Alliance
Elderhostel
European Travel Commission
Hospitality Ireland
Hostelling International - American Youth Hostels
Indian Tour Operators Association
International Association of Amusement Parks and Attractions
International Council of Tourism Partners
International Federation of Women Travel Organizations
Kompass Holidays
Middle East - Mediterranean Travel & Tourism Association
Nepal Tourism Industry Association
PATA Maldives Chapter
Reed Travel Exhibitions
SKAL International
Society of Travel for the Handicapped
Society of Incentive Travel Executives
Sustainable Communities Foundation through Tourism
The International Tourism Exchange (BIT)
The OTS Foundation
Universal Federation of Travel Agents' Association
World Airlines Clubs Association
Dear Colleague,
Plans are well underway for the Second Global Summit on Peace through Tourism being organized in partnership with the World Travel and Tourism Council. The Summit will bring together leaders from all sectors of the travel and tourism industry, together with leaders in the areas of economic development, culture and heritage, sport, environment, and inter-faith dialogue.
The Goals of the Second Global Summit are first, to continue building a "Culture of Peace through Tourism" in support of the U.N. Decade of Peace and Non- violence for the Children of the World; second, to develop a beginning coordinated strategy for the role of travel and tourism as a leading force for poverty reduction; and thirdly, to continue developing partnering relationships that contribute to the building of a "Culture of Peace through Tourism.".
SECOND GLOBAL SUMMIT ON PEACE THROUGH TOURISM TO BE HELD IN GENEVA, FEBRUARY 5-8, 2003

Keynote speakers will be Nobel Peace Prize winners, international travel and tourism industry statesmen, and world leaders in the areas of culture and heritage, economic development, and environment. The Summit will feature a "Government - Industry - Donor - NGO Roundtable, with leaders from each of these sectors. The Roundtable will focus on a beginning strategy for the role of travel and tourism in poverty reduction.We look forward to your participation with us in this milestone event, as we address the contribution that the world's largest industry can make in building a better world for all.
With best regards, Louis D'Amore -IIPT Founder and President-
www.iipt.org
IIPT website
SUMMIT TO HONOR THE LEGACY OF UN SECRETARY GENERAL DAG HAMMARSKJOLD - MAN OF PEACE
As the First Global Summit in Amman honored the legacy of Peace of HM King Hussein, The Second Global Summit will honor the legacy of the Second UN Secretary General of the United Nations, Dag Hammarskjold, Nobel Peace Laureate and Man of Peace. Dag Hammarskjold was Secretary-General of the United Nations from 10 April 1953 until 18 September 1961 when he met his death in a plane crash while on a peace mission in the Congo. He was an active international peacemaker of great moral authority and sensitivity. In his eight years as UN Secretary, he was involved in struggles on three continents, approaching each of them through what he called "preventive diplomacy." The United Nations, Geneva has agreed to the dedication of a Dag Hammarskjold International Peace Garden on its grounds as a legacy of the Second Global Summit. The dedication will take place as the final event of the Summit, Saturday afternoon, February 8th
An IIPT Dag Hammarskjold International Peace Park was dedicated in Ndola, Zambia at a special ceremony commemorating the 40th anniversary of the death of UN Secretary General Dag Hammarskjold. The Park is located at the site where the plane carrying Secretary Dag Hammarskjold and his 15 colleagues went down on 18 September 1961. The Dag Hammarskjold Peace Park was one of 11 Peace Parks dedicated as part of our launching of a Global Peace Parks Project on the 11th hour, of the 11th day, of the 11th month, 2000 at Bethany Beyond the Jordan, site of Christ's baptism - closing event of the First Global Summit on Peace through Tourism.
INVITATION TO INTERNATIONAL ORGANIZATIONS TO HOLD BOARD MEETINGS International travel and tourism organizations, and international organizations in related fields of culture and heritage, environment, sport, economic development and inter-faith dialogue, are invited to hold their Executive Committee/Board meetings in connection with the Summit. Rooms for this purpose will be made available at the UN Conference Center at no cost on February 5th, first day of the Summit - a day that will be devoted to meetings of IIPT Networks, Chapters and Coalition of Partners prior to a Welcoming Reception that evening. Please contact IIPT to make arrangements (Summit@IIPT.org)
YOUR ASSISTANCE REQUESTED Your assistance in helping us to promote the Second Global Summit to your colleagues and through your various networks would be greatly appreciated. We are seeking to reach all sectors of the travel and tourism industry, public, private, not for profits and educational, as well as related sectors including culture, environmental, economic development agencies, sports organizations and groups promoting inter-faith dialogue.
FOUNDATIONS OF SUMMIT The Second Global Summit on Peace through Tourism builds on the foundations of three global conferences (Vancouver, 1988, Montreal, 1994, Glasgow, 1999); and the First Global Summit held in Amman, Jordan - November 8-11, 2000 with His Majesty King Abdullah II as Royal Patron and American Express the Title Sponsor. A significant outcome of the Summit was the Amman Declaration, ratified by participants from some 60 countries including 23 CEO's of major travel companies and members of the World Travel and Tourism Council, 16 Ministers of Tourism, members of the World Tourism Organization, and heads of more than 20 international travel and tourism associations. The Amman Declaration has since been incorporated as an official UN document.
Other outcomes included the formation of a Coalition of Partners for World Peace through Tourism with more than 25 founding partners - each committed to a Millennium Project that contributes to the vision of "Tourism as a Global Peace Industry"; three international networks; and the launch of a Global Peace Parks Project.
E-MAIL: Summit@IIPT.org
OR CONTACT THE EDITOR OF THIS MAGAZINE: airhwy@dowco.com
---
Photo Credits: IIPT Archives / Robert Eilets