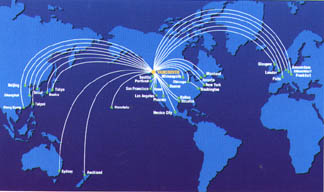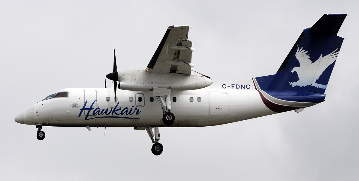 Hawkair was founded in 1994 as a remote area cargo service airline. In those days Hawkair flew mining equipment to isolated Goldmine sites in Northern BC.
In 2000, sensing that opportunity existed within the passenger airline industry in British Columbia, the Company transformed itself into a passenger service with the leasing of their first Dash-8 aircraft in August 2000. One month later, the Company was flying scheduled service between Terrace and Vancouver.
Over the past twelve years the company has expanded its route network to four cities, including Terrace-Kitimat, Prince Rupert, Smithers and Vancouver. In April of 2011, Hawkair moved its Vancouver-based operations from YVRís smaller South Terminal to Vancouver International Airport Main Terminal.
Hawkair operates a fleet of four DeHavilland Dash-8 aircraft with seating capacity from 37 to 50 passengers. All aircraft offer passengers the highest level of comfort, with onboard amenities including lavatory, galley and flight attendant. Hawkairís friendly, helpful staff and full in-flight service including complementary beverage and snacks has earned Hawkair "Customer Service Company of the Year" awards from local Chambers of Commerce.
Hawkair now employs over 100 staff and crew, providing local jobs and supporting the regionís economy. The local airline prides itself on giving back to the communities it serves. Hawkair generously provides sponsorship to numerous non-profit and community events on an annual basis.
The founders of Hawkair have modeled their airline after the low-cost, short-haul beginnings of Westjet and Southwest airlines.

HAWAIR OF TERRACE BC USES THE "HUGGER" FOR AIR SAFETY

Two Terrace-based companies are taking significant steps to be proactive when it comes to addressing the issue of safety in the workplace and in the air.
In mid-October, Rhonda Keegan, Flight Attendant Manager of Hawkair, and Chris Arnold, a consultant with the Provincial Networking Group, will attend a training seminar in Surrey, England.
As a follow&endash;up to the Disruptive Passenger workshop Arnold developed for Hawkair pilots, flight attendants and Customer Service Agents in July, the two will attend a "train the trainer" workshop in the use of a new passenger restraint devise developed specifically for the airline industry.
Arnold says, "This particular devise is compact, easy to use, and does not put the passenger at risk of injury." The "Hugger" is like an oversized zap strap, and slips over the passenger and seat back to effectively immobilize the individual quickly and safely.
In the July workshop, Keegan explains, staff were trained to identify common passenger behaviour types, triggers that contribute to an agitated passenger's stress levels, early warning signs to watch for, and how to diffuse the situation before it reaches extreme levels. The program also trained Hawkair employees in techniques to physically intervene with a violent passenger in a manner that decreases their likelihood of injury while maintaining the safety of staff, the individual and other passengers.
With the assistance of the Provincial Networking Group, Hawkair is a nationwide-leader in the development of programs to deal with disruptive passengers. The training session in England and the purchase of the devises are also a first for Canada.
The Provincial Networking Group Inc. is a private consulting, training and specialized employment agency based in Terrace. Chris Arnold's specialty is in the area of working with potentially violent and aggressive individuals. Since 1992 he has been teaching crisis management skills to social service, education and other professionals throughout the northwest and the province.
Hawkair Aviation is a low-cost, full-service passenger airline serving the cities of Terrace, Prince Rupert and Vancouver, BC. Their second 37-seat Dash 8, to be delivered in October of 2001, will offer increased services to these centres and a new daily service for Smithers, B.C. Rhonda Keegan is Flight Attendant Manager, overseeing the airline's cabin safety procedures and policies under the Canadian Aviation Regulations.
INFO: Chris Arnold, PNG, 1 (250) 635-4479
Rhonda Keegan, Hawkair, 1 (250) 635-1302
Charlynn Toews, Hawkair, 1 (250) 635-8763