.
Air Highways and Africa Travel Magazine editorial team participates in ATTA Adventure Travel World Summit in Whistler, BC, Canada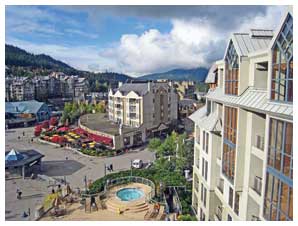 The third annual Adventure Travel Trade Association's World Summit, October 4-7, 2007 in Whistler, British Columbia was an outstanding success according to travel magazine editors Muguette Goufrani and Jerry Bird. It attracted and tourism travel professionals from 34 countries to the mountain resort north of Vancouver, which will co-host the 2010 Olympic Games. A series of photos from the event are available from the website http://www.karenkefauver.com
Googled us lately?
Africa Travel Magazine represented Africa at our first ATTA Adventure World Summit when it was held at the Whistler Resort near Vancouver, BC, site of the 2010 Winter Olympics. It was one of the finest events we have had the pleasure of attending. Our editors heartily recommend the 2008 ATTA events in South America and Northern Europe. Photos from both events will appear on our two websites.

ATTA Adventure Travel World Summit-South America Sells Out, Sets Attendance Records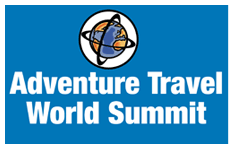 The first of two 2008 Adventure Travel World Summit (ATWS) events organized by the Adventure Travel Trade Association (ATTA) set event attendance records with more than 700 representatives from 33 countries participating in the sold-out, September 3-7 event in São Paulo, Brazil. The Summit was its first ever outside of North America.
More than a show of numbers and a reflection of growing sector interest, industry progress was made on multiple fronts. At the ATWS-South America, leaders: introduced the Adventure Tourism Development Index (ATDI) which supports responsible and sustainable development of emerging adventure travel destinations worldwide; heightened awareness of accessibility issues for handicapped adventure travelers and for community-based tourism initiatives; and increased industry attention to safety management and guide training to improve the professionalism of operators worldwide. Additionally, an immediate outcome of the South American gathering was the formation of a new Latin-speaking network of adventure and eco-travel trade associations which will collaborate to heighten the global profile of adventure travel in South and Central America. The initiative is expected to serve as a continental model to more fully network the adventure travel trade worldwide.
Luis Baretto, Brazil's Minister of Tourism, was among the featured speakers at the opening ceremony on Thursday, along with ATTA President Shannon Stowell and ABETA (Brazil Ecotourism and Adventure Travel Association) President Israel Waligora. During his opening remarks, Minister Baretto said, "This is the beginning of a new phase in Brazilian tourism and the Adventure Travel World Summit has contributed to this phase. Our adventure travel tourism will greatly benefit from the collaboration between tour operators, international media, and global tourism boards."
Building off the success of its ATWS-South America, the ATTA continues its 2008 networking initiatives with the introduction of its Adventure Travel World Summit-Europe to Norway, October 21-25. Already, representatives from 25 countries are registered for the conference in Norway, an event designed specifically to strengthen North American, European and African business-to-business relationships, while further professionalizing the specialty niche and setting bearing points for businesses to pursue responsible and sustainable growth.
In 2005, the ATTA introduced the ATWS, an executive level gathering of leaders representing the sustainable growth interests of the global adventure travel community. Since then, the Adventure Travel World Summit has become the travel industry's largest conference specializing in adventure tourism which includes physical, cultural and nature-based travel.
ATTA Summit events continue to attract influential business leaders. For last week's ATWS-South America, featured speakers included Brazil's minister of tourism, one of Fortune Magazine's "Top 100 Most Powerful Women in the World", and the co-author of "Authenticity," a book which Time Magazine recently named as one of the "10 Ideas That Are Changing the World".
Representatives from international conservation organizations, major media outlets, educational institutions, and travel agencies are the primary participants in the ATTA's executive conferences. ATTA's Summit conference sessions are geared toward giving market professionals tools to grow and improve their businesses, promoting and professionalizing adventure travel worldwide, and increasing business-to-business networking and collaboration. In addition, the Summits address regional business needs and discuss cultural and environmental sustainability issues impacting the world today.
Major Sponsors of both 2008 Adventure Travel World Summits include: Brazil Tourism, ExOfficio travel clothing, Innovation Norway, Men's Journal magazine, and W.L. Gore and Associates. Key Sponsors include Adventure Central, Alpine Tourist Commission, Best of the Alps, Chile, National Geographic Adventure.

Adventure Travel World Summit-Europe information is available at
www.adventuretravelworldsummit.com.
Established in 1990, the Seattle-based ATTA (www.adventuretravel.biz) is a global membership organization dedicated to unifying, professionalizing, promoting and responsibly growing the adventure travel market worldwide. ATTA Members include tour operators, destination marketing organizations, tourism boards, travel agents/agencies, guides, lodges/resorts/attractions, media, and service providers. Host of the Adventure Travel World Summits, the ATTA provides professional support, development, education, research, marketing, career building, networking and cost saving resources to its member
Global Adventure Travel Community Rallies Behind 2007 Adventure Travel World Summit
From Europe to the Americas, tourism boards, destination marketing organizations, tour operators, media and gear companies are rallying behind the Adventure Travel Trade Association (ATTA), which today announced it has sold-out its three main evening sponsorships for its 2007 Adventure Travel World Summit (ATWS) being held October 4-7 in Whistler, B.C., Canada.
Eight ATTA Key Sponsors have committed to the highest levels of sponsorship to further their interests, while backing the ATTA's vision for a progressive and highly networked global adventure travel community dedicated to responsible growth. Key Sponsors of the ATTA and the 2007 ATWS include:
• Innovation Norway &endash; www.visitnorway.com
• Alpine Tourist Commission &endash; www.alpseurope.com
• Best of the Alps &endash; www.bestofthealps.com
• Brazilian Bureau of Ecotourism &endash; www.bbeco.org
• Canada Tourism Commission &endash; www.canadatourism.ca
• ExOfficio &endash; www.exofficio.com
• National Geographic Adventure &endash; www.nationalgeographic.com/adventure
• Adventure Central &endash; www.adventurecentral.com
Annually increasing support from top-level sponsors has demonstrated the ATTA's evolving influence within the broader travel and leisure industry. Returning sponsors, combined with diverse new supporters, reflects the ATTA's reach into relevant markets and its ability to serve as the hub of the global adventure travel community.
"We're grateful to our new sponsors for bringing to the ATTA, and to the industry at large, a fresh infusion of knowledge, expertise and resources," said ATTA President Mr. Shannon Stowell. "New member and sponsor growth brings innovative market insights, increased networking and sharing of experiences, and leads to a web of collaborators seeking to contribute in meaningful ways."
Every ATTA sponsorship delivers an exchange of value that enables supporters to reach specific business and marketing objectives. In addition to helping its sponsors create new business opportunities, the ATTA's broader initiatives are enhancing the professionalism of the industry and helping to make adventure travel an attractive leisure choice for consumers worldwide.
"We partner with the ATTA to support their work promoting and facilitating arenas for the adventure industry to meet, network and learn from each other," said Hege Vibeke Barnes, Manager Tour Operator & Trade Relations, Innovation Norway. "Norway, a natural choice for adventure experiences, needs to be more visible and available, and we have found the right channel to do that through our cooperation with the ATTA".
In just two years, the ATTA has held two global summits and grown its membership base to more than 250, which includes representation from six continents.
"Switzerland Tourism was extremely impressed by the professionalism, the spirit and support it received from the ATTA during last year's Summit," said Urs Eberhard, EVP Markets & MICE Switzerland Tourism. "The ATTA provided us with more than enough information to decide on the next steps of how to position the Alps as the perfect destination for adventure travel. An important next step will be our participation at the 2007 Adventure Travel World Summit."
ATTA Supporting Sponsors in 2007, each of which serve vital roles in promoting adventure travel worldwide, features the return of:
• Virtuoso, Specialists in the Art of Travel &endash; www.virtuoso.com
• VAST (Virtuoso Active & Specialty Travel) &endash; www.virtuosovast.com
New and returning ATTA Contributing Sponsors include:
• New: Ecuador Tourism Promotion Fund &endash; www.purecuador.com
• New: Outside Magazine &endash; www.outsidemag.com
• New: Tourism Whistler &endash; www.tourismwhistler.com
• Archaeology Magazine &endash; www.archaeology.org
• DISCOVER magazine &endash; www.discovermagazine.com
• Eagle Creek &endash; www.eaglecreek.com
• Quotient Marketing &endash; www.quotientmarketing.com
For the 2007 Adventure Travel World Summit, the ATTA has expanded its display space and will include approximately 45 exhibitors. Committed exhibitors seeking direct exposure and access to the more than 500 adventure travel industry professionals expected to gather in Whistler, include: World Concern, MonkeyBean Solutions Inc., Tourism Ireland, Macabi Skirt, Exclusive Tents, Ventura Convention and Visitors Bureau, and Outdoor Prolink, which will join all sponsors in exhibiting during the October conference.
In its third year, the ATWS will deliver a premier international forum for executive-level industry networking, multi-disciplinary sessions aimed at sustainable and responsible growth, and solutions-oriented dialogue, debate, and deliberation on critical topics. Delegates include tour operators, destination marketing organizations, tourism boards, lodges/resorts and transportation companies (air, auto, etc.). Adventure travel agents, attractions, and travel-oriented gear manufacturers also will participate along with media, travel, marketing and technology service organizations, academic institutions, research enterprises, tourism and recreational governmental agencies.
For information on sponsorship opportunities and exhibition space, contact ATTA Director of Business Development Chris Chesak at cchesak@adventuretravel.biz. More ATWS information may be accessed at 866-411-3131 or info@adventuretravel.biz .
Established in 1990, the Seattle-based ATTA (www.adventuretravel.biz) is a global membership organization dedicated to unifying, professionalizing, promoting and responsibly growing the adventure travel market worldwide.
Media Contact:
Mr. Shannon Stowell
President, Adventure Travel Trade Association
360.805.3131
shannon@adventuretravel.biz