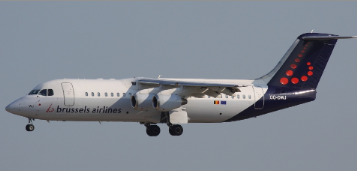 Following the acquisition of SN
Brussels
Airlines and Virgin Express by SN Airholding, Brussels Airlines is the largest airline in
Belgium
and is based in Zaventem, Belgium.
Lufthansa
owns 45% of the airline and has an option over the remaining 55%.
Brussels Airlines operates as a subsidiary of Lufthansa and became a member of
Star Alliance
in Dec-2009. Using a fleet which includes
Boeing
737,
Airbus
319/320/330 and Avro RJ85/100 aircraft, Brussels Airlines' network includes
services within Europe as well as the Middle East, Africa and the
USA
. Brussels Airlines is a member of the Star Alliance. Capa Aviation.
SN Brussels Airlines flights to Africa
To respond to customer and market demand, SN Brussels Airlines has launched services to Africa. Three Airbus 330-300 are being put in operations in a phased manner. The first destinations to be served are: Kinshasa, Entebbe, Kigali, Nairobi, Dakar, Banjul, Conakry and Monrovia. By mid-June, the destinations Douala, Yaounde and Luanda will be added. To operate those flights, SN Brussels Airlines signed a letter of intent for a cooperation ("wet lease") contract with a new Belgian airline that will be created by MM. G. Gutelman and V. Hasson. The operation is conditional to all parties getting the necessary authorizations and Board approvals. The launching of African operations will create employment opportunities for about 200 people in Belgium and 150 in Africa.
Frequencies and destinations
While its core business remains focused on Europe, SN Brussels Airlines will from April 26, 2002 launch new services to Africa. These services will be put in operation in 2 waves:

As of April 26, the following destinations and frequencies are planned: Entebbe/Nairobi (three times a week); Kigali/Nairobi (twice a week), Kinshasa (3 times/week), Dakar /Banjul (3 times/week); Conakry/Monrovia (twice a week).
As from June 21: the full weekly program that will be flown is as follows:
5 flights to Dakar and Banjul
3 flights to Conakry and Monrovia
5 flights to Central Africa (Kinshasa, Luanda, Douala, Yaounde)
6 flights to East Africa (Nairobi, Kigali and Entebbe)
Bookings and sales of tickets are open as of Monday, February 25, 2002.
High-quality product and service
The planes that will be operated are Airbus 330-300 that offer excellent comfort and service.
Two types of classes will be available:
A Business Class of 42 seats with a 62-inch pitch
An Economy class of 222 seats with a 31 to 33-inch seat pitch
The planes will also allow the transport of cargo goods. On a yearly basis, about 40.000 tons of cargo capacity will be available between Europe and Africa.
Letter of intent for a "wet lease" contract signed and more than 350 jobs created
To launch its African network, SN Brussels Airlines signed a letter of intent for a wet lease contract with MM G. Gutelman and V. Hasson. The contract is conditional to all parties getting all the necessary authorizations and Board approvals.
The company to be created by MM. Gutelman and Hasson will put the three airplanes and cockpit crew at SN Brussels Airlines disposal. SN Brussels Airlines will operate the flights and will be responsible for all commercial, network, marketing, quality and product aspects.
The three planes will bear the SN Brussels Airlines identity. The livery and interior of the planes will be adapted to the new colors and logos of the company.
The agreement signed with MM. Gutelman and Hasson will allow to provide employment to 50 Belgian pilots who will be hired by MM Gutelman and Hasson's new airline. Service on board will be ensured by SN Brussels Airlines cabin personnel. About 150 ex-Sabena cabin crew members will be offered employment.
In Africa, SN Brussels Airlines will hire some 150 staff, mostly ex-Sabena.
The launching of long-haul flights will also allow to create additional jobs for ground personnel at Brussels Airport.
Implementation
The implementation of the new brand will take place progressively. The first plane to carry the new brand and logo will be ready by end February. By mid-March, several corporate identity elements (airport labeling, travel agencies, paper head,...) will already be adapted to the new brand. A new website explaining the new brand values is from now on accessible via the address
http://www.brussels-airlines.com.
All visual information can be directly downloaded from there.
In the weeks to come, targeted marketing campaigns will also be launched in Belgium and abroad to make the brand known.
Customer loyalty will continue to be built upon thanks to the frequent flyer program.
SN Brussels Airlines continues to be part of the Qualiflyer Frequent Flyer program and customers can add on and spend miles on all flights.
Archive
A new start, a new name, a new identity
SN Brussels Airlines launches flights to Africa as of April 26, 2002
SN Brussels Airlines entrusts European Cargo Services with the commercialization of its cargo capacity on flights from Europe to Africa
Encouraging fast growth and innovative services and price packages for SN Brussels Airlines.
---
Our brand
SN Brussels Airlines was created to continue in the steps of the two Belgian companies Sabena and DAT, who between them had an unequaled safety record. The new company will keep Sabena's famous 'S' symbol as part of its identity, as a way of acknowledging and building on the know-how ofits predecessors.
Brussels Airlines is proudly Belgian
Our new company is the result of an unprecedented link-up between private companies, industrial
companies and Belgian regional investment companies. Brussels Airlines reflects the values of a
nation open to the world. These values include multi-cultural sensitivity, multilingualism, accessibility
and straightforward sociability.
Brussels Airlines is business-like
Brussels Airlines is dedicated to the needs of business travelers. This means ensuring comfort,
reliability, punctuality, time slots convenient to business requirements, and flights perfectly designed
for one-day meeting formats.Brussels Airlines is caring
Brussels Airlines has an updated fleet that fulfills the highest needs of comfort and safety. The quality
of our service will be all-pervading, before, during and after the flight. We pay as much attention to
the human element in our operations, as to the technology that ensures the comfort of our passengers.