I am the Yellowhead
by Jerry W. Bird

Heading westward from Jasper National Park, through the famous "Yellowhead Pass," I enter British Columbia, Canada's most westerly province. Near the Continental Divide at Tete Jaune Cache, in the shadow of Mount Robson, tallest peak in the Canadian Rockies, I give the motorist two pleasant options. One of my arms extends south along the North Thompson River beside Wells Gray Provincial Park to Clearwater, and on to Kamloops, Merritt and Hope. My other arm, slightly longer, points northwest, following the Fraser River to Prince George. From there I continue to Prince Rupert and Masset on the Pacific's Inside Passage to Alaska . Continuing west beyond McBride is Bowron Lake Provincial Park and plenty of great riverside stops for photography, a picnic lunch or fishing expedition.
Prince George
Spirit of the North. To wilderness adventurers, canoeists, hikers and anglers, Prince George is a gateway to paradise, and little wonder. A quick glance at the road map will tell you why. It's the Northwest's crossroads of highways, railways, trails and waterways, central to an immense recreation, forestry and trading area. Located where the Fraser and Nechako rivers meet, this former Hudson's Bay Company fort offers easy access to numerous fishing lakes, linked by a superb trail system. Explorers Alexander Mackenzie and Simon Fraser, who traveled these same arteries in the late 1700s, had great visions for the area. Both would be awestruck by the large, modern city that has evolved, with over 120 parks, a major university and one of BC's busiest airports. Visitor attractions abound, from Fort George Park, Fraser Fort George Regional Museum Regional Museum, the Heritage River Trail to the Prince George Railway and Forest Industry Museum. Adjacent to the University of Northern British Columbia is "Forests for the World," a 106 hectare forest project that includes Shane Lake and a panoramic view of the city. A relatively new Provincial Courthouse, Civic Center and Plaza are other symbols of civic pride. Pacific Rim ties are strengthened by faculty and student exchanges with universities in Japan, Korea and New Zealand. The annual Prince George Air Show in July and Salmon Valley Country Music Festival are key events. The area's economy is forest industry-based, with 15 sawmills and 3 pulp mills. Pacific Rim ties are a key to the area's future. Thanks to the university, this position is strengthened by faculty and student exchanges with universities in Japan, Korea and New Zealand.
Vanderhoof
Bullseye! The town of Vanderhoof is right in the geographical center of British Columbia. The name came from Herbert Vanderhoof, a government agent , who launched a publicity campaign to attract settlers to Western Canada in 1908.
Fort. St. James
From Prince George, a pleasant side trip to Fort St. James takes you through ranch country, by rivers lined with cottonwoods and sparkling lakes. Fort St. James was founded by explorer Simon Fraser, in 1806. At Fort St. James National Historic Site, BC's oldest continuously inhabited community salutes its fur trading past. History lives on at this authentic Hudson's Bay Trading Post, with furs, trade goods, and staff in 1890s attire. One of the west's oldest fur warehouses, a clerk's residence and a fish cache remain.
Burns Lake
The community of Burns Lake is central to the "Lake District," which produces rainbow trout up to 15 pounds, Char (Lake Trout) up to 30 pounds, and a variety of other finny fare. Wildlife is also abundant. In the early 1900's the town was a major supplier of railroad ties for the Grand Trunk Pacific Railway. Today's economy is based on logging, lumber production, agriculture, ranching, and tourism. Burns Lake is the main gateway to Tweedsmuir Provincial Park, second largest in British Columbia.
Houston
Smithers
Smithers, in the heart of the fertile Bulkley Valley has taken on an Alpine theme, and Hazelton on the Upper Skeena is "Totem Pole Capital of the World." At K'san Village, tribal houses feature paintings, screens and carved interior poles, and dancers perform Indian rituals. Historic sites dot this heartland of the Tsmishian, Kitsumkalum and Gitskan, where Emily Carr made many of her sketches.
The Hazeltons
"Ksan Indian Village &endash; a nearby historic reconstruction &endash; occupies a site, at the junction of Bulkley and Skeena rivers, where a centuries-old Gitksan community stood in the 1870s, when the first settlers arrived. The newcomers renamed the Indian Village, originally known as Git-an-maks ("the place where the people fish by torch light"). The heavily forested region within a 65-km radius is sacred to the Gitksan. Among the village's reconstruct ions are six communal long houses, all embellished with paintings and carved poles of traditional design. The Frog House of the Stone Age features early methods of making clothes and utensils from cedar bark. The Wolf or Feast House shows Gitksan life after white traders introduced blankets, iron kettles and muskets. The treasure Room and Exhibition Centre displays costumes, handicrafts, carvings and other objects. Guided tours are available. Traditional dance performances are scheduled in summer.
Kitwanga
North to Alaska. At the village of Kitwancool, just north of Kitwanga, visitors can see the world's largest standing totem pole, "Hole-through-the-Ice," just one among many historic totems in this region. From Kitwancool, you can take the Cassiar-Stewart Highway (37) which leads north to the Upper Liard in Canada's Yukon.
Terrace
Beyond Terrace, the Skeena, called River of Mists by the Gitskan, widens into a broad lake, meeting the Pacific at Port Edwards, site of the 1889 North Pacific Cannery
Port Edward
Fishing is Port Edward's mainstay industry &endash; as visitors to its busy waterfront discover. Items relating to this industry are exhibited in the North Pacific Cannery and Museum, which is engaged in an ongoing restoration of one of the oldest canneries on the British Columbia coast. Stretching northwest from Port Edward is Chatham Sound, a noted recreation spot for boating enthusiasts and fishermen.
Prince Rupert
A Canadian travel editor described his experience this way. "I first saw Prince Rupert from the deck of The Princess Louise, a CPR passenger ship that plied the Inside Passage to Alaska, just 64 km upcoast. The harbor was alive with canneries, fishing fleets, coastal ferries, deep-sea ships, and a huge grain elevator - it was fascinating." Today, the city is buzzing with news of a long awaited cruise ship industry that will help realize the dream of Mr. Hayes, Prince Rupert's biggest booster. His plans went down when the Titanic struck an iceberg. You can take the world's second steepest gondola ride on Mount Hayes, enjoy an archeological boat tour, or board BC Ferries' Queen of the North for a 15-hour cruise to Port Hardy on Vancouver Island. The Museum of Northern BC has totem pole carving on site, and 10,000 year old works of art. Outdoor activity abounds in some of the wildest country on the continent.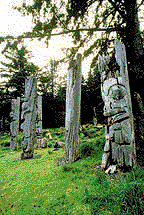 Haida Gwaii- Canada's Galapagos
So you think you've conquered the Yellowhead, right? Wrong! There's still a short trip by sea to the Haida Gwa'ii, our Western Mile "0." From Prince Rupert your voyage to the "Misty Islands" is a salty experience. These fog-shrouded waters of the Haida Gwa'ii or Queen Charlotte Archipelago teem with salmon, herring, halibut, rockfish, mussels, crab, starfish, sea urchin and octopi. Armadas of Gray, Humpback and Killer Whales skip along the surface. Seabirds abound, and near Cape St. James, sea lions romp and play. Isolation from the mainland has given rise to a unique subspecies of wildlife. Gwa'ii Haanas National Park Preserve is also called South Moresby. Since the park has no roads or facilities, visitors must be self sufficient. Anthony Island's abandoned village, Ninstints, is a UN World Heritage site. There are over 500 archeological and historical Haida sites.
Now you've earned bragging rights: We hope your pictures turn out great, especially the wildlife scenes (nudge, nudge). As the sun sets on the Haida Gwa'ii, and your kayak rocks gently on the tide, we'll turn off today's movie and bid good-bye. If you take the trip, send us a postcard. We're sure you'll savor every moment -- and are likely to plan many happy returns!
Continued: BC Southern Route
Why not consider a ferry trip to Port Hardy on Vancouver Island and back to the mainland via Victoria or Nanaimo? Contact Yellowhead Highway Association.